Live Video Monitoring Services
Resolute Partners live video monitoring services provide a professional real time security camera monitoring solution.
Resolute Partners video monitoring service helps large and small businesses who have a surveillance system, but need trained professionals to handle live monitoring overnight and weekends. We offer a low-cost real time security camera monitoring and CCTV monitoring solution that enables businesses to affordably maintain proactive surveillance.
Half of crimes against businesses happen at night.
Many businesses can monitor video surveillance cameras during regular daytime office hours, but few have personnel to watch them overnight. Unfortunately, half of robbery, burglary, motor vehicle theft, and property crimes happen at night. Most business surveillance camera systems, if they are working, simply capture and record crimes. Although video security can deter some criminal activity, unmonitored surveillance does nothing to stop a crime in progress.
Fast response and suspicious activity alerts with video.
Resolute Partners trained video security surveillance monitoring professionals can quickly spot suspicious activity captured by business security cameras. We review live video to determine if criminal behavior is suspected. If suspicious actions are occurring, we alert you or local authorities right away. Alerts are sent to customers by email, and we include a video clip of the incident for immediate review.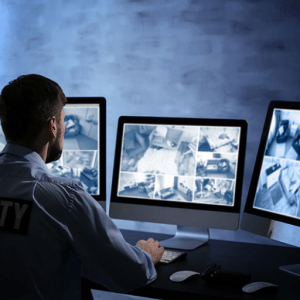 Live video monitoring service is easy to set up.
Through a self-installed remote monitoring (REMO) device, our video security professionals can access and monitor cameras you choose. Shipped directly to your business, REMO works with most brands of business security cameras operating on a CCTV (records on a DVD/NVR) or cloud based system. Once installed, we can begin remote surveillance monitoring service in as little as 1 business day.
Resolute Partners video security team will then remotely monitor business security cameras nightly from 10 pm to 6 am, 7 days a week. During live remote video monitoring, our team may notice that a camera is not providing optimal viewing ability. If this happens, we will notify you.
30-day free trial of video monitoring services.
We believe businesses exploring new video security solutions should have the opportunity to try before you buy. Use our information request form to receive more details about our video monitoring services and to learn more about our no obligation 30-day free trial. After you see how helpful this can be, your trial will convert to a 3-year contract for our video monitoring services.