Government Contract Bid Partner
Resolute Partners Advanced Network Experience Makes us a Strong Federal Government Contract Bid Partner
Finding the right U.S. government contract bid partner is an arduous task for prime contractors. The world of Federal government contracting for technology-enhanced infrastructure is competitive and complex. Prime contractors must build stand-out teams with responsible subcontractors that can help them qualify for and win bids. Creating these power teams means choosing bidding partners—whether large or small—that know the ropes and can bring value to the team. As a Prime Contractor, if you are seeking a federal government contract subcontractor to deploy secure wired and wireless connectivity for communications and energy management... Resolute Partners is a solid choice. We have the best planning and implementation in that industry, and the benefit of Federal contracting experience and relationships.  Most of all, we have a substantial history of being a serious partner that values long term relationships; a fact that is integrated into our company name and values.
Federal Contracting Experience, Relationships, Compliance, Past Performance, and Capabilities
Resolute Partners has over two decades of experience working with government contracts. Our advanced network expertise is extensive, and we have helped numerous prime contractors qualify for and win bids. Additionally, our team meets the Small Business Administration (SBA) contracting definition of a small business. Past performance is a major evaluation factor in the government contracting source selection and award process. Our ample history as a responsible subcontractor strengthens teams and helps prime contractors meet past performance requirements. 
National Institute of Standards and Technology (NIST) Compliance
Resolute Partners completed the requirements for compliance with the National Institute of Standards and Technology (NIST) Special Publication (SP) 800-171, Protecting Controlled Unclassified Information in Nonfederal Information Systems and Organizations. This compliance affects businesses working on DoD contracts—either as a prime or a subcontractor—and we meet the standards that define how to safeguard and distribute material deemed sensitive but not classified.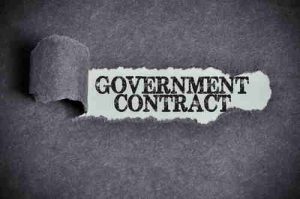 Are you a Prime Contractor looking for an experienced subcontractor to partner with who can help you win more bids?
Our Federal Government Contracting Experience and Relationships
Army and Air Force Exchange · Defense Media Activity · Dugway Proving Grounds · Idaho National Laboratory · Tooele Army Depot · U.S. Army · U.S. Department of Veterans Affairs · U.S. Marine Corps
As a Government Contract Bid Partner, we Specialize in...
· Military Data/Communications and High Security Government Networks · Cybersecurity Solutions using DoD Risk Management Framework · Networks for Energy Management Control and Information Systems
Resolute Partners Firmwide Capabilities Statement
Resolute Partners operational experience and depth of technical knowledge allows us to respond quickly to changing needs against evolving industry standards. See our Capabilities Statement to learn more: