Advanced Security Solutions
Discover how integrating streamlined access, video surveillance, and state-of-the-art security solutions can enhance the living experience in your multi-family residential building while ensuring optimal security. Let us show you the positive impact these measures can have on your property.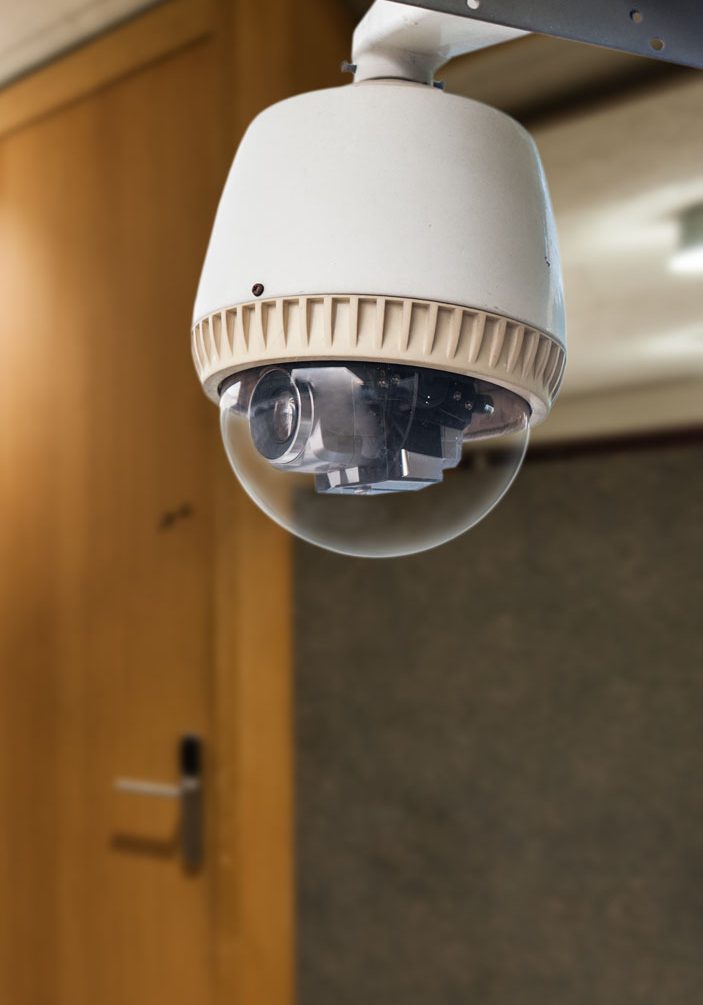 Where is your property lacking coverage?
Property managers and owners can deter criminals from vulnerable areas of residential properties and ensure the safety of tenants by securing these often overlooked areas:
Parking garages are often bustling centers of activity among both patrons and employees. Yet, these structures present unique challenges when it comes to preserving the safety of your organization, staff, and customers.
That's why video surveillance with after hours security camera monitoring in parking garages has become an essential security strategy component. A robust video monitoring system can help improve security for guests and their belongings, as well as monitor the activities of your employees. While unmonitored cameras may primarily provide evidence after a crime has already been committed, 24/7 protection also acts as a deterrent that may prevent break-ins or vandalism.
Swimming pools provide countless hours of fun for family and friends. But keeping the fun (and safety) in pools requires diligence and attention. Pool accidents can occur for many reasons, but there is no excuse for them when we have technology capable of preventing them. Security cameras paired with trained AI technology are a great way to keep an eye on your pool area and make sure everyone is safe.
Trespassing is a serious problem at public and private swimming pools and we have seen first-hand how dangerous it can be for both the trespasser and the property owner. Drowning, injury, slipping, and falling are all possible when someone is not authorized to be in or around a pool. This is especially true considering most pool hopping takes place at night at unfamiliar properties.
Luckily, there is an easy solution: live video monitoring security services. Resolute Partners keeps an eye on what's happening on your property 24/7. Although video security can deter some criminal activity, unmonitored surveillance does nothing to stop a crime in progress like our trained surveillance professionals can.
Keep your youngest residents safe and secure, especially when they are playing outside at your playground. Implement AI security video cameras and monitoring systems to detect potential danger before it happens, keeping children safe from potential kidnappings and other threats.
In addition to keeping children safe from harm, our AI security cameras and monitoring systems also provide protection in case of injury. With clear and accurate footage of any incidents, we can ensure that all parties involved are protected and that the appropriate actions are taken.
Implementing surveillance over dumpsters is crucial to prevent not only dumpster fires, but also illegal dumping at apartment complexes. By monitoring these areas, property managers can quickly identify any suspicious activity or unauthorized dumping, allowing for timely intervention and reducing the risk of costly damage or harm to residents and property. The video footage can also serve as evidence to address the issue of illegal dumping and hold the responsible parties accountable, maintaining a clean and safe environment for all residents.
Advanced video security at entrances, exits, and gateways of residential buildings is of paramount importance. Property managers and owners can effectively monitor and control access, deter unauthorized individuals, and promptly respond to any security incidents, ultimately enhancing the safety and security of residents within the building.
By having a comprehensive surveillance system in place, lobbies and property management offices can effectively monitor and prevent loitering, deter theft or vandalism, and provide a safe environment for employees and visitors. This helps protect valuable assets, maintain a secure working environment, and ultimately enhance the overall security of the rental office facility.
Implementing advanced video security surveillance specifically in laundry rooms of residential multifamily properties is crucial to address the issues of loitering and vandalism. By monitoring these areas, property managers can deter unauthorized individuals from loitering, prevent acts of vandalism, and promptly respond to any suspicious activities. This not only maintains a safe and secure environment for tenants to use the laundry facilities, but also helps protect valuable property and prevent potential disruptions or damages caused by criminal behavior.
Property managers can monitor communal areas like elevators, parking garages, fitness centers, and outdoor spaces anytime, anywhere. The captured footage can be used as evidence in potential prosecutions, helping law enforcement identify suspects and send a strong message against criminal behavior, ultimately enhancing the overall security and safety of the residential building and its inhabitants.
How does enhanced security pay for itself?
Here is your opportunity to justify higher rental rates. Today's renters highly value the assurance of a secure home. By prioritizing their safety through a modern building security system, you can attract and retain quality tenants, while preserving their peace of mind.
It's crucial to take proactive and preventative measures to prevent frustrated tenants. With the right technology and security measures, you can provide them with a safe environment they're happy to call home.
Reduce potential losses due to theft, vandalism, car break-ins, loitering, and more. With features like real-time video monitoring, remote access, and smart alerts, we can quickly investigate threats, coordinate emergency response, and ensure proactive protection of your property.
Revolutionize residential property management with our multi-site security management software. Effortlessly monitor all properties in real-time, thanks to features like video mapping, integrated activity logs, AI analytics, and instant alerts sent directly to your device.
What Property Owners & Managers Say About Us
Resolute Partners delivers on every level. Step by step Resolute Partners kept us informed of what was happening and when. Set-up was easy and very thorough. Customer service and follow up were very helpful. We felt like we could call on them with any questions without hesitation.
D.H.
MULTIFAMILY PROPERTY MANAGER
The team at Resolute are not just vendors to us, they are partners who actively collaborate with both our corporate and management teams to devise holistic, creative, and/or cost-effective solutions to whatever challenge we throw at them. Their work product is outstanding, they are willing to think outside the box, and the security and access systems they have installed routinely exceed our expectations.
A.P.
TOP 100 MDU OWNERS
The Latest In Residential Property Security News