Internet of Things solutions and IoT connectivity expertise. We supply, install, and integrate advanced IoT devices used for environmental, power, and security applications.
Resolute Partners provides IoT integration services and The Internet of Things solutions for U.S. commercial and government enterprises. With over two decades of experience working in advanced network engineering, design, and infrastructure, we're masters at IoT connectivity. As an enterprise IoT services provider, Resolute Partners can supply, install, connect, and securely integrate advanced Internet of Things devices that help organizations achieve operational excellence.
Enterprise IoT solutions and services made simple
We supply and install advanced IoT devices that help enterprises enhance safety and security, monitor and improve operations, and automate processes.
There are numerous advanced Internet of Things devices that enterprises utilize. Most often, these devices work to protect assets, promote safety, and provide remote real-time monitoring of operations and equipment. Others are used for environmental protection and utility monitoring purposes, including sensors and meters for gas detection, energy measurement, and water management. 
Whatever the need, in new construction projects or existing property upgrades, Resolute Partners can help organizations improve processes and obtain building efficiency through technology. Our IoT connectivity and IoT integration expertise includes experience working with over 150 different types of advanced devices. Some of the commonly used devices we can provide, install, connect, and integrate include environmental, power, and security solutions such as: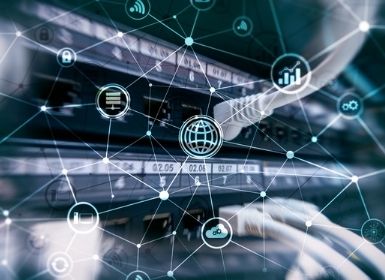 Need IoT integration experts to securely connect IoT devices with your advanced network?
Voltage Meters, Water or Light Detection Sensors
Voltage meters monitor power status. Water detection sensors prevent leak or flood damage. Light detection sensors ensure lights are on.
Humidity Sensors and Temperature Sensors
Temperature and humidity sensors remotely monitor areas where extreme temperatures or humidity negatively impact assets, performance, or safety.
Carbon Monoxide and Carbon Dioxide Sensors
Wireless sensors that protect people and air quality by alerting you to the presence of Carbon Monoxide (CO) or excessive levels of Carbon Dioxide (CO2).
Infrared Motion or Activity Detection Sensors
Motion and activity detection sensors send alerts when there is live movement in a restricted area, or unusual activity occurring in a specific area.
Surveillance, Occupancy, Access Control
Remote monitoring security solutions including AI-based IP video security cameras, occupancy sensors, and access control devices.
Our Partners and Vendors are Leading Innovators in Enterprise IoT
Enterprises deserve quality Internet of Things solutions, and our world-class partners deliver.
Resolute Partners believes that using the highest quality solutions for the task at hand is a worthwhile investment that consistently delivers the most ideal result. Our partners and vendors are world-class enterprise IoT solution providers that are as trusted as they are renowned. Alongside industry leaders like Aruba Networks, Avigilon, Axis Communications, Cisco, Hewlett Packard Enterprise, Milestone, Monnit, Motorola, Ruckus Networks, and more... we bring enterprises the top-notch IoT services and solutions they need. Learn more about our capabilities by reviewing our past IoT project case studies...