Energy Management Control Systems
Secure and Reliable Wireless Networks for Energy Management Information Systems
Resolute Partners specializes in energy management information systems (EMIS). We provide wireless and wired network engineering design, installation, and operations to the growing energy management control systems market. Working with industry leaders such as Johnson Controls and Siemens, we install, support, and secure connectivity to enable their enterprise technology solutions to efficiently and cost effectively manage climate, power, and electrical systems.
Custom Energy Management and Control Systems Network Engineering, Installation, Management and Security
Resolute Partners provides and secures energy management and control systems networks that offer extreme reliability, high availability, and secure connectivity. Each can connect a full range of energy control devices with a centralized management database and various control applications. Engineering high security networks, including hardware and software solutions from the DISA Approved Products List for government networks, is the ideal energy management solution. Especially for multi-building campus style environments such as military bases, colleges, prep schools, or commercial office parks.
Current SCADA and industrial/process control systems are often connected to business networks to improve overall enterprise operations and decision making. The challenge for today's facility manager is connecting and securing a wide array of disparate monitoring and control devices to a reliable, robust network. Specifically, one that is capable of both reporting data back to a central control center and sending control instructions back through the network to those devices. Saving money and reducing carbon footprint by signaling devices to automatically adjust temperatures, limit power consumption, and re-direct energy resources is ideal. Resolute Partners has a proven solution to help facility managers meet that challenge.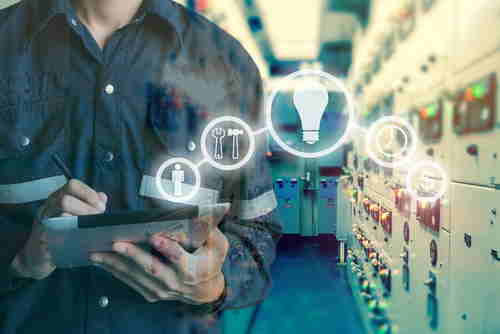 Looking to save money and reduce your carbon footprint by signaling devices to automatically adjust temperatures, limit power consumption, and re-direct energy resources? Need it done with DISA-approved products on a reliable, robust, and secure network?
Our unique fixed wireless network solutions - in combination with traditional wired network segments (fiber and copper cable) - can provide the needed connectivity. Additionally, they reduce costs associated with retrofitting older buildings, or where aerial or underground cable placement is not feasible. For example, our team engineered, installed, and supported an expansive energy management network linking more than 200 buildings on a Marine Corps base in California. Using a hybrid fixed wireless bridging and fiber network, we completed the project with minimal operational disruption. Ultimately, this network met the immediate need for energy management. Additionally, it has the capacity to provide connectivity for other applications--to include security, access control, and communications.