Wired or Wireless Networks. Internet Access Networks. Secure Staff, Customer, or Guest Wi-Fi.
Resolute Partners provides high-reliability, cost-efficient wired and wireless networks and Internet access for commercial locations, public buildings and areas, military installations, and dormitories and campuses.. A secure Wi-Fi network enables organizations to safely provide fast and reliable Internet access to their customers or guests through pay-to-use/subscription or free access options (with or without authentication) without compromising the integrity or security of their internal internet network.
Our secure private, staff, customer, and guest internet access networks have helped numerous government entities and commercial enterprises including hospitals, hotels, office parks, public spaces, college campus dormitories, and academic facilities. Our history includes the deployment of more than 40 Veteran's Guest Internet Access (VGIA) networks for U.S. VA Medical Centers.
A Future-Ready Wi-Fi Network
Resolute Partners builds Future-Ready Wi-Fi Networks that are flexible, secure, and adaptable. In other words, our wired and wireless Internet access networks are able to accommodate changes that cannot be anticipated at the time of installation. Local area networks must keep pace with advances in consumer electronics, cybersecurity, and changing usage patterns. Sophisticated user behaviors—such as increased video streaming, team collaboration, and expanded use of tablets and smartphones—requires the ability to increase network throughput and available bandwidth, and provide security over the life of the network installation.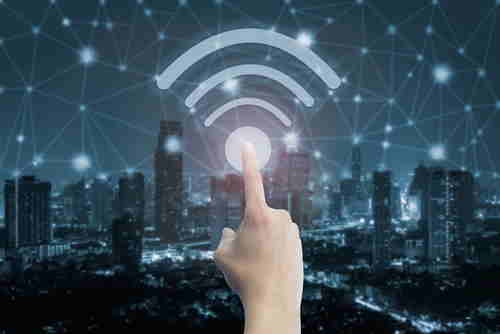 Need a Future-ready Staff, Customer, or Guest Internet access Wi-Fi Network that is flexible, secure, fast, reliable, and adaptable?
The Right Staff, Customer, Guest, or Private Internet Access Solution - Wired, Wireless and Hybrid Networks
We deliver Internet connectivity through the latest wireless technologies. In legacy environments, depending on the organization's facility and requirements, we can also deploy hybrid wired and WiFi network access. After a site review, we will recommend the network solution and specific technologies most appropriate and cost efficient for an organization's facilities and requirements. Once installed, we will manage the network to provide continuous and robust connectivity.
With optional firewall hardware, our networks offer protection against unauthorized intrusions and damaging virus attacks. Resolute Partners can configure public-area wireless internet access solutions to provide content filtering to limit exposure to objectionable material while permitting unrestricted access to all other pages and websites.
The Internet of Things (IoT)
A robust wireless network opens the doors to the Internet of Things. Our extensive experience with energy management and control networks can help clients connect all types of IoT devices today—and tomorrow. Energy management, access control, and digital signage all depend on an integrated facility-wide managed solution. We deliver a robust, unified network to support all smart-campus applications and provide Enterprise IoT Services.