Multi-family Residential Security Solutions
Video Surveillance Systems, IP Security Cameras, AI-based Software, Motion Sensors, Voice-down Capability, Access Control, and VSaaS
Resolute Partners understands the unique security needs of the Multi-family residential housing industry. We've helped hundreds of properties install new or modernize existing security systems with IP video surveillance cameras, state-of-the-art network equipment, suspicious behavior and facial recognition software, motion detection sensors, voice-down systems, and access control equipment. For convenience and affordability, we also offer Video Surveillance as a Service (VSaaS), which gives property owners a dedicated video system monitoring and maintenance solution at a fixed monthly cost.
Video Surveillance as a Service (VSaaS) - Managed Video Security
VSaaS is a full-service video surveillance monitoring and maintenance solution that includes all hardware, software, ongoing maintenance and technical support for a fixed monthly fee.
Along with the design, engineering, and installation of advanced security equipment and software, Resolute Partners provides Video Surveillance as a Service. VSaaS is a location or cloud based full-service managed video security option that combines 24/7 live video monitoring and real-time security alerts with all normal system maintenance and support over the term of the contract. It is a cost-effective video surveillance management solution often used by our multi-family housing clients to lock in video security costs upfront and avoid future system maintenance costs. Managed video security enables the storage and remote viewing of video recordings and provides ongoing system cybersecurity and technical support. If you are not in need of managed video security services, we make sure your staff receives the training needed to operate equipment and maintain software.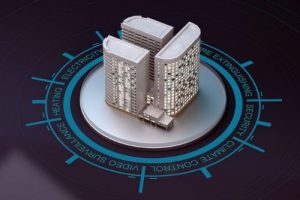 Learn how we can help manage, monitor, and maintain real-time security solutions for your multi-family residential property...
Multi-family Residential Security and Safety Sensors
We can help you secure assets and ensure resident and personnel safety with wireless IoT sensors that monitor activity and environment.
Multifamily residential properties are increasingly adopting the use of smart building IoT device technology to improve processes and protect assets and people. We provide wireless sensors of all types, install and connect them with your security network including:





Humidity Detection Sensors
Our Partners and History in World-Class Multi-family Residential Security Solutions
Resolute Partners works with the world's top innovators of advanced security solutions. Our distinguished security equipment and software partners include Avigilon, Aruba, Axis Communications, Cisco, Milestone, Monnit, and more. Flexible and cost-effective security solutions are what today's multi-family residential housing leaders demand. Together, we're rising to meet that challenge and consistently exceed expectations.
Our history with advanced network engineering and partnerships with world-class security equipment providers allow us to handle multiple aspects of multi-family residential security. Certified by RealPage and Vive, we've helped hundreds of multi-family residential clients with everything from equipment installation and secure network software integration to ongoing maintenance and support. We strongly support the affordable housing industry, and are proud members of NLHA, NEAHMA and SAHMA.