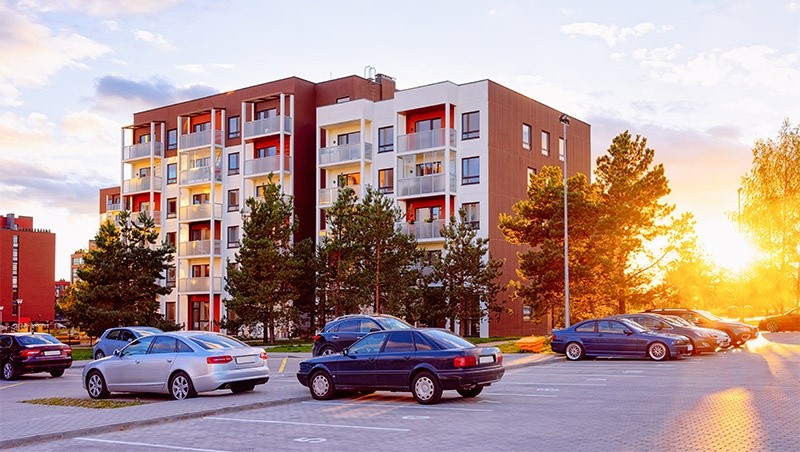 Why Protecting Apartment Parking Lots Is A Top Priority
It's a scary statistic, but apartment managers should be aware: More than 1 in 10 property crimes occur in parking lots or garages. Parking lots are easy targets for criminals because they can break into a large number of cars in a short amount of time. The darker the parking lot the better for thieves and they will be looking to see if there are any signs posted saying there are security cameras.
One of the most important priorities for new renters when choosing an apartment is the overall feeling they get when they are on a premises, including the parking lot. It's no secret that apartment managers need to proactively attempt to stop crime from happening to improve the safety of their apartment complexes and their neighborhoods. In addition to maintaining high-output lighting, one of the best ways to do this is to invest in newer, innovative technology with rules-based live-video surveillance cameras and a real-time proactive monitoring 24/7 with live security attendants.
This investment is one that will continue to reap rewards for landlords for many years to come and can save considerable money over adding live patrols. Imagine if you could increase your occupancy rates because of the safety rating of your complex when compared to others in the area? Whether a potential new renter is a parent to a big family or simply a young couple, one thing is on their mind that upgrading your security provides: More security.
What if you had the ability to stop crime before it happens? Resolute Partners' multi-family and apartment security surveillance solution stops crime and doesn't just record it. The next generation of video surveillance alerts authorities of suspicious activity and the video is viewed by a live person in real-time. By including more lighting to your parking lots and upgrading your security camera technology, you can increase your occupancy rates while reducing your liability.
Contact Resolute Partners to learn more or to get a FREE video surveillance cost estimate.